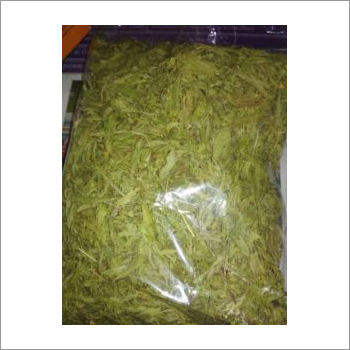 Stevia Leaves
Product Code : 02
Product Description
Stevia Leaves that we are offering are extracted from plant species Stevia rebaudiana. Owing to its sweetening ingredients, it is used as a sugar substitute. It contains compounds such as steviol glycosides stevioside and rebaudioside responsible for the sweetness of the leaves. These leaves are heat stable and cannot be fermented. Generally, it is used as food additives and dietary supplements. In addition, we are offering Stevia Leaves in different packaging, weights, etc in order to meet the diverse demands for the product.
Features
Stevia is around 200 to 400 times sweeter than table sugar, and it is often used as a sugar substitute in diet soda, candy, yogurts, desserts, and other foods and beverages.
HEALTH BENEFITS OF STEVIA :-
WEIGHT CONTROL
The causes of overweight and obesity are multifactorial and include factors such as physical inactivity, prolonged sitting, and increased intake of energy-dense foods that are high in fat and added sugars.Plant-based, zero calorie stevia can be part of a well-balanced diet to help reduce energy intake without sacrificing taste.
DIABETES
Research has shown that stevia sweeteners do not contribute calories or carbohydrates to the diet and do not affect blood glucose or insulin response, which allows people with diabetes to consume a wider variety of foods and comply with a healthful meal plan.
BLOOD PRESSURE
Certain glycosides in stevia extract have been found to dilate blood vessels, increase sodium excretion, and urine output. In higher doses, stevia could potentially help lower blood pressure.
PANCREATIC CANCER
Stevia plant has many sterols and antioxidant compounds including kaempferol, quercetin, chlorogenic acid, caffeic acid, isoquercitrin, and isosteviol. Studies have found that kaempferol can reduce the risk of pancreatic cancer by 23 percent.
HEARTBURN AND INDIGESTION
Drinking Stevia tea after every meal may serve as a digestive aid and relieve heartburn and stomach pain.
Stevia leaves gain approval in the EU
EU Member States recently agreed that infusions made from stevia leaves now can be sold in European countries with general food safety rules applying.
How is stevia used?
Stevia sweeteners are used as an ingredient in products throughout Asia and South America such as:
Ice cream
Desserts
Sauces
Yogurts
Pickled foods
Bread
Soft drinks
Chewing gum
Candy
Seafood
Prepared vegetables
Children's Diets
Foods and beverages containing stevia can play an important role in decreasing calories from unwanted sweeteners in the diets of children.
STEVIA MOUTHWASH
To make Stevia mouthwash, add 3-4 drops of Stevia extract in half a cup of lukewarm water or steep half a cup of tea with its leaves or teabag and gargle three to four times daily especially in the morning and at night. For toothpaste, mix 2 drops of Stevia extract to the regular toothpaste.
Wrinkles
To smooth out the wrinkles, before going to bed, apply a paste made by crushed Stevia leaves or its liquid concentrate evenly all over the face and let it dry for fifteen to twenty minutes. Wash and pat dry your face and apply a few drops of extra virgin coconut oil on the face and leave it on over night to benefit from its antioxidant effects.
Contact Us
No : 98/3, Nageswara Gurusamy Street, Ayanavaram, Chennai, Tamil Nadu, 600023, India
Phone :+917259367173